The Convocation was guided by the HolySpirit, inspired by Pope Francis and his call to missionary discipleship, and led by the bishops of the United States in collaboration with Catholic leaders in dioceses, parishes, movements, and organizations across the country.
Prayer for the Convocation of Catholic Leaders
Prayer and reliance on the Holy Spirit was central to the work of the Convocation. Prayer for the Convocation

Convocation Guidebook and Journal
The Participant Guidebook and Journal helped delegates and those participating at home to engage the themes of the gathering before, during, and after the Convocation. E-Book | PDF | Order

Evangelii Gaudium (The Joy of the Gospel) 
Inspired by Evangelii Gaudium and the vision of Pope Francis for the Church, the Convocation helped form missionary disciples to share the joy of the Gospel.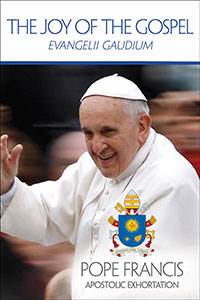 [I]n every community, in every parish and institution, in every diocese and circumscription, in every region, try to launch, in a synodal fashion, a deep reflection on the Evangelii Gaudium, to draw from it practical parameters and to launch its dispositions ... I am certain of your capacity to put yourselves into a creative movement in order to make this study practical. (Address of the Holy Father while Meeting with the Participants in the Fifth Convention of the Italian Church, 10 November 2015)
I dream of a "missionary option," that is, a missionary impulse capable of transforming everything so that the Church's customs, ways of doing things, times and schedules, language and structures can be suitably channeled for the evangelization of today's world rather than for her self-preservation. (Evangelii Gaudium 27)

Living as Missionary Disciples 
The U.S. bishops have outlined the call to evangelization for all Catholics in
Living as Missionary Disciples
, developed by the Committee on Evangelization and Catechesis. Going forward from the Convocation, this is a great resource for parishes, dioceses, movements, Catholic organizations, and individuals who feel the call to share the Gospel with others.
View
|
Order
ADDITIONAL RESOURCES
---
Convocation Schedule View
Convocation Program Book View
Program Supplement View